Healthy Eating in Grand Junction
Make your choices count!
What goes in.....determines....EVERYTHING!
Leroux Creek Natural Farm, Raw Dairy
Ralph and Wendy Sheldon
11581 - 3300 Road
Hotchkiss, CO 81419
970-872-2174
Email: rhswes@tds.net
"Dairy is not the problem, pasteurization is", from
"The Untold Story of Milk", by Ron Schmid, ND
.
We are so grateful that our beautiful state of Colorado participates in the "Cow Share Program", allowing fresh, raw milk availability. The Sheldon family delivers to different locations on the western slope including our office on Tuesdays. Contact them for cost and delivery details.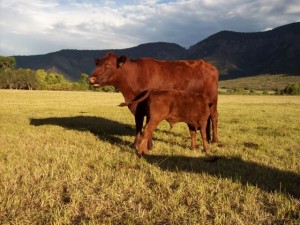 The Bremmer Cattle Company, Ltd.
Randy and Carol Bremmer
28505 Highway 141
Whitewater, CO 81527-9721
970-931-2818
Email: rbremmer@mac.com
"...what makes herds happy also makes their meat healthier", Lindsay Moyer,
"Grass is Greener, Buy Healthy Meat"
Woman's Health Magazine.
Natural health care changed the Bremmer's lives and we reap the benefits. Now raising pasture fed Red Poll cattle, the Bremmers are renowned for providing juicy, tender, and full-flavored beef.
Contact Randy and Carol for cost and details.